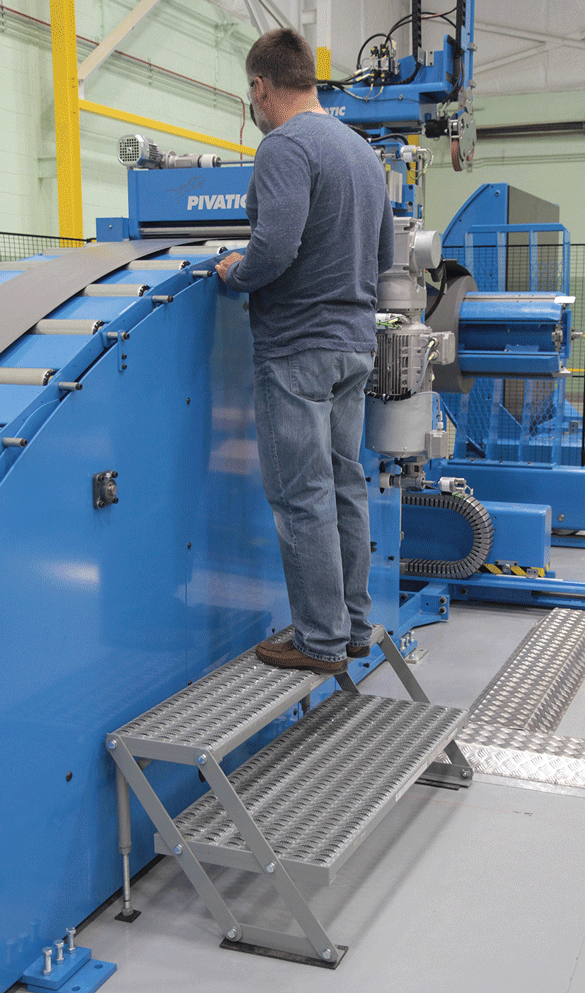 Adjusts 5″ to 8″ or 9″ to 14″ ( 1 step), 13″ to 21″ (2 step) to meet your varying work levels. Adjustable Work Platforms have a higher load capacity and larger platform for two people, plus tools. Available in serrated or solid with ergo-mat tread. Available in Steel, Aluminum or Stainless Steel.
All tube members are 1" steel tube construction.
All welded construction.
Gray Powder coat is the standard finish.
8 stairway tread support welds per step, for a stronger, longer lasting, and safer ladder.
Multiple Tread
OPTIONS
Cotterman® offers a variety of tread types to suit your needs. So, no matter what environment your ladder will be in, we have a tread that will offer the optimal grip.

  

(A3)

Solid Tread with ErgoMat (A8)
Solid metal step with nonslip ErgoMat tread.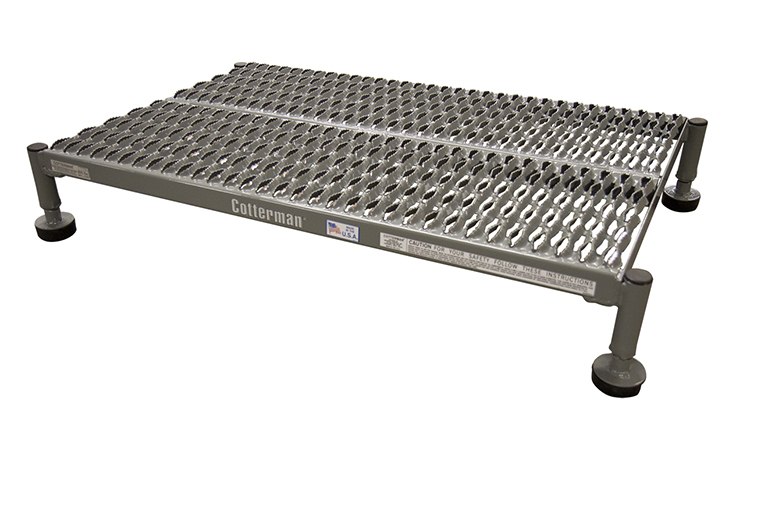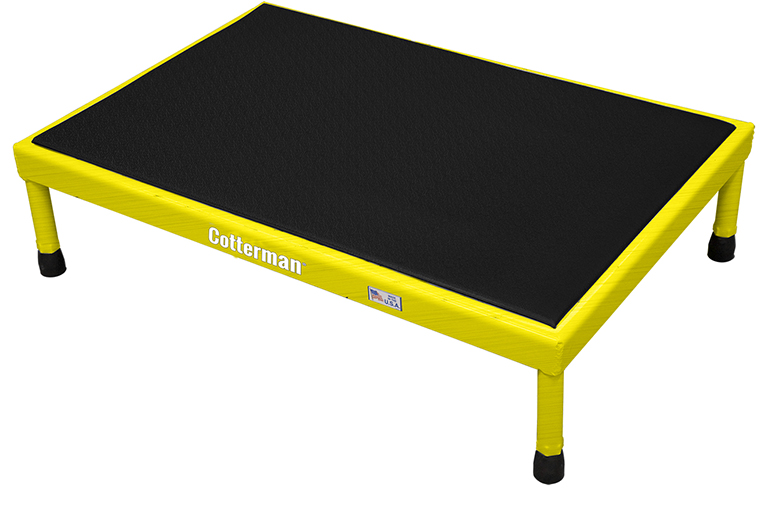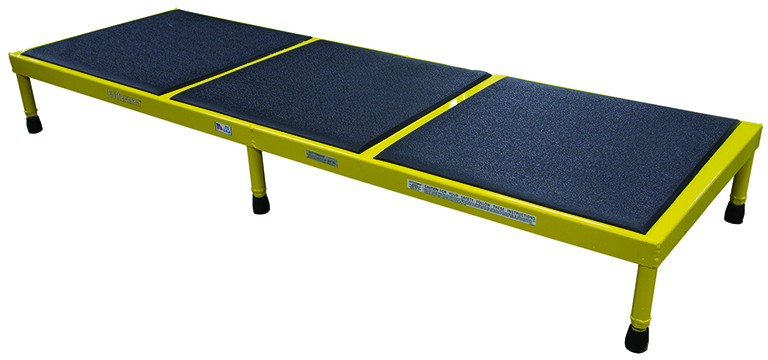 Product Selection Guide
Our NEW Product Selection guide can assist you in choosing the correct ladder for your application. Once you find the ladder that has the correct dimensions for you, just select the red model number, we'll then ask you to select your tread type, tread width and platform depth. After that we'll show you the model number(s) that is the best fit for your use.
1 STEP STEEL ADJUSTABLE WORK PLATFORM
| | | | | |
| --- | --- | --- | --- | --- |
| Description | Platform Size | Overall Height | Working Height | Part Number |
| 1 Step Steel Adjustable Work Platform with UNAGRIP® Serrated Tread on 2-1/2″ Rubber Pads | 19 x 24 | 10 to 15 | 76 to 81 | 1AWP1924A3 A10-15 B8 C1 P6 |
| 1 Step Steel Adjustable Work Platform with UNAGRIP® Serrated Tread | 19 x 24 | 5 to 8 | 71 to 74 | 1AWP1924A3 A5-8 C1 P6 |
| 1 Step Steel Adjustable Work Platform with UNAGRIP® Serrated Tread on 2-1/2″ Rubber Pads | 19 x 24 | 6 to 9 | 72 to 75 | 1AWP1924A3 A6-9 B8 C1 P6 |
| 1 Step Steel Adjustable Work Platform with UNAGRIP® Serrated Tread | 19 x 24 | 9 to 14 | 75 to 80 | 1AWP1924A3 A9-14 C1 P6 |
| 1 Step Steel Adjustable Work Platform with UNAGRIP® Serrated Tread on 2-1/2″ Rubber Pads | 19 x 36 | 10 to 15 | 76 to 81 | 1AWP1936A3 A10-15 B8 C1 P6 |
| 1 Step Steel Adjustable Work Platform with UNAGRIP® Serrated Tread | 19 x 36 | 5 to 8 | 71 to 74 | 1AWP1936A3 A5-8 C1 P6 |
| 1 Step Steel Adjustable Work Platform with UNAGRIP® Serrated Tread on 2-1/2″ Rubber Pads | 19 x 36 | 6 to 9 | 72 to 75 | 1AWP1936A3 A6-9 B8 C1 P6 |
| 1 Step Steel Adjustable Work Platform with UNAGRIP® Serrated Tread | 19 x 36 | 9 to 14 | 75 to 80 | 1AWP1936A3 A9-14 C1 P6 |
| 1 Step Steel Adjustable Work Platform with UNAGRIP® Serrated Tread on 2-1/2″ Rubber Pads | 19 x 48 | 10 to 15 | 76 to 81 | 1AWP1948A3 A10-15 B8 C1 P6 |
| 1 Step Steel Adjustable Work Platform with UNAGRIP® Serrated Tread | 19 x 48 | 5 to 8 | 71 to 74 | 1AWP1948A3 A5-8 C1 P6 |
| 1 Step Steel Adjustable Work Platform with UNAGRIP® Serrated Tread on 2-1/2″ Rubber Pads | 19 x 48 | 6 to 9 | 72 to 75 | 1AWP1948A3 A6-9 B8 C1 P6 |
| 1 Step Steel Adjustable Work Platform with UNAGRIP® Serrated Tread | 19 x 48 | 9 to 14 | 75 to 80 | 1AWP1948A3 A9-14 C1 P6 |
| 1 Step Steel Adjustable Work Platform with UNAGRIP® Serrated Tread on 2-1/2″ Rubber Pads | 19 x 60 | 10 to 15 | 76 to 81 | 1AWP1960A3 A10-15 B8 C1 P6 |
| 1 Step Steel Adjustable Work Platform with UNAGRIP® Serrated Tread | 19 x 60 | 5 to 8 | 71 to 74 | 1AWP1960A3 A5-8 C1 P6 |
| 1 Step Steel Adjustable Work Platform with UNAGRIP® Serrated Tread on 2-1/2″ Rubber Pads | 19 x 60 | 6 to 9 | 72 to 75 | 1AWP1960A3 A6-9 B8 C1 P6 |
| 1 Step Steel Adjustable Work Platform with UNAGRIP® Serrated Tread | 19 x 60 | 9 to 14 | 75 to 80 | 1AWP1960A3 A9-14 C1 P6 |
| 1 Step Steel Adjustable Work Platform with UNAGRIP® Serrated Tread on 2-1/2″ Rubber Pads | 19 x 72 | 10 to 15 | 76 to 81 | 1AWP1972A3 A10-15 B8 C1 P6 |
| 1 Step Steel Adjustable Work Platform with UNAGRIP® Serrated Tread | 19 x 72 | 5 to 8 | 71 to 74 | 1AWP1972A3 A5-8 C1 P6 |
| 1 Step Steel Adjustable Work Platform with UNAGRIP® Serrated Tread on 2-1/2″ Rubber Pads | 19 x 72 | 6 to 9 | 72 to 75 | 1AWP1972A3 A6-9 B8 C1 P6 |
| 1 Step Steel Adjustable Work Platform with UNAGRIP® Serrated Tread | 19 x 72 | 9 to 14 | 75 to 80 | 1AWP1972A3 A9-14 C1 P6 |
| 1 Step Steel Adjustable Work Platform with UNAGRIP® Serrated Tread on 2-1/2″ Rubber Pads | 19 x 96 | 10 to 15 | 76 to 81 | 1AWP1996A3 A10-15 B8 C1 P6 |
| 1 Step Steel Adjustable Work Platform with UNAGRIP® Serrated Tread | 19 x 96 | 5 to 8 | 71 to 74 | 1AWP1996A3 A5-8 C1 P6 |
| 1 Step Steel Adjustable Work Platform with UNAGRIP® Serrated Tread on 2-1/2″ Rubber Pads | 19 x 96 | 6 to 9 | 72 to 75 | 1AWP1996A3 A6-9 B8 C1 P6 |
| 1 Step Steel Adjustable Work Platform with UNAGRIP® Serrated Tread | 19 x 96 | 9 to 14 | 75 to 80 | 1AWP1996A3 A9-14 C1 P6 |
| 1 Step Steel Adjustable Work Platform with UNAGRIP® Serrated Tread on 2-1/2″ Rubber Pads | 24 x 24 | 10 to 15 | 76 to 81 | 1AWP2424A3 A10-15 B8 C1 P6 |
| 1 Step Steel Adjustable Work Platform with UNAGRIP® Serrated Tread | 24 x 24 | 5 to 8 | 71 to 74 | 1AWP2424A3 A5-8 C1 P6 |
| 1 Step Steel Adjustable Work Platform with UNAGRIP® Serrated Tread on 2-1/2″ Rubber Pads | 24 x 24 | 6 to 9 | 72 to 75 | 1AWP2424A3 A6-9 B8 C1 P6 |
| 1 Step Steel Adjustable Work Platform with UNAGRIP® Serrated Tread | 24 x 24 | 9 to 14 | 75 to 80 | 1AWP2424A3 A9-14 C1 P6 |
| 1 Step Steel Adjustable Work Platform with UNAGRIP® Serrated Tread on 2-1/2″ Rubber Pads | 24 x 36 | 10 to 15 | 75 to 80 | 1AWP2436A3 A10-15 B8 C1 P6 |
| 1 Step Steel Adjustable Work Platform with UNAGRIP® Serrated Tread | 24 x 36 | 9 to 14 | 76 to 81 | 1AWP2436A3 A5-8 C1 P6 |
| 1 Step Steel Adjustable Work Platform with UNAGRIP® Serrated Tread on 2-1/2″ Rubber Pads | 24 x 36 | 6 to 9 | 72 to 75 | 1AWP2436A3 A6-9 B8 C1 P6 |
| 1 Step Steel Adjustable Work Platform with UNAGRIP® Serrated Tread | 24 x 36 | 9 to 14 | 75 to 80 | 1AWP2436A3 A9-14 C1 P6 |
| 1 Step Steel Adjustable Work Platform with UNAGRIP® Serrated Tread on 2-1/2″ Rubber Pads | 24 x 48 | 10 to 15 | 76 to 81 | 1AWP2448A3 A10-15 B8 C1 P6 |
| 1 Step Steel Adjustable Work Platform with UNAGRIP® Serrated Tread | 24 x 48 | 5 to 8 | 71 to 74 | 1AWP2448A3 A5-8 C1 P6 |
| 1 Step Steel Adjustable Work Platform with UNAGRIP® Serrated Tread on 2-1/2″ Rubber Pads | 24 x 48 | 6 to 9 | 72 to 75 | 1AWP2448A3 A6-9 B8 C1 P6 |
| 1 Step Steel Adjustable Work Platform with UNAGRIP® Serrated Tread | 24 x 48 | 9 to 14 | 75 to 80 | 1AWP2448A3 A9-14 C1 P6 |
| 1 Step Steel Adjustable Work Platform with UNAGRIP® Serrated Tread on 2-1/2″ Rubber Pads | 24 x 60 | 10 to 15 | 76 to 81 | 1AWP2460A3 A10-15 B8 C1 P6 |
| 1 Step Steel Adjustable Work Platform with UNAGRIP® Serrated Tread | 24 x 60 | 5 to 8 | 71 to 74 | 1AWP2460A3 A5-8 C1 P6 |
| 1 Step Steel Adjustable Work Platform with UNAGRIP® Serrated Tread on 2-1/2″ Rubber Pads | 24 x 60 | 6 to 9 | 72 to 75 | 1AWP2460A3 A6-9 B8 C1 P6 |
| 1 Step Steel Adjustable Work Platform with UNAGRIP® Serrated Tread | 24 x 60 | 9 to 14 | 75 to 80 | 1AWP2460A3 A9-14 C1 P6 |
| 1 Step Steel Adjustable Work Platform with UNAGRIP® Serrated Tread on 2-1/2″ Rubber Pads | 24 x 72 | 10 to 15 | 76 to 81 | 1AWP2472A3 A10-15 B8 C1 P6 |
| 1 Step Steel Adjustable Work Platform with UNAGRIP® Serrated Tread | 24 x 72 | 5 to 8 | 71 to 74 | 1AWP2472A3 A5-8 C1 P6 |
| 1 Step Steel Adjustable Work Platform with UNAGRIP® Serrated Tread on 2-1/2″ Rubber Pads | 24 x 72 | 6 to 9 | 72 to 75 | 1AWP2472A3 A6-9 B8 C1 P6 |
| 1 Step Steel Adjustable Work Platform with UNAGRIP® Serrated Tread | 24 x 72 | 9 to 14 | 75 to 80 | 1AWP2472A3 A9-14 C1 P6 |
| 1 Step Steel Adjustable Work Platform with UNAGRIP® Serrated Tread on 2-1/2″ Rubber Pads | 24 x 96 | 10 to 15 | 76 to 81 | 1AWP2496A3 A10-15 B8 C1 P6 |
| 1 Step Steel Adjustable Work Platform with UNAGRIP® Serrated Tread | 24 x 96 | 5 to 8 | 71 to 74 | 1AWP2496A3 A5-8 C1 P6 |
| 1 Step Steel Adjustable Work Platform with UNAGRIP® Serrated Tread on 2-1/2″ Rubber Pads | 24 x 96 | 6 to 9 | 72 to 75 | 1AWP2496A3 A6-9 B8 C1 P6 |
| 1 Step Steel Adjustable Work Platform with UNAGRIP® Serrated Tread | 24 x 96 | 9 to 14 | 75 to 80 | 1AWP2496A3 A9-14 C1 P6 |
1 STEP STAINLESS STEEL ADJUSTABLE WORK PLATFORM
1 STEP ALUMINUM ADJUSTABLE WORK PLATFORM
2 STEP STEEL ADJUSTABLE WORK PLATFORM
 

| | | | | |
| --- | --- | --- | --- | --- |
| Description | Platform Width | Overall Height | Working Height | Part Number |
| 2 Step Steel Adjustable Work Platform with UNAGRIP® Serrated Tread | 24 | 13 to 21 | 79 to 87 | 2AWP2412A3 A13-21 C1 P6 |
| 2 Step Steel Adjustable Work Platform with UNAGRIP® Serrated Tread | 36 | 13 to 21 | 79 to 87 | 2AWP3612A3 A13-21 C1 P6 |
| 2 Step Steel Adjustable Work Platform with UNAGRIP® Serrated Tread | 48 | 13 to 21 | 79 to 87 | 2AWP4812A3 A13-21 C1 P6 |