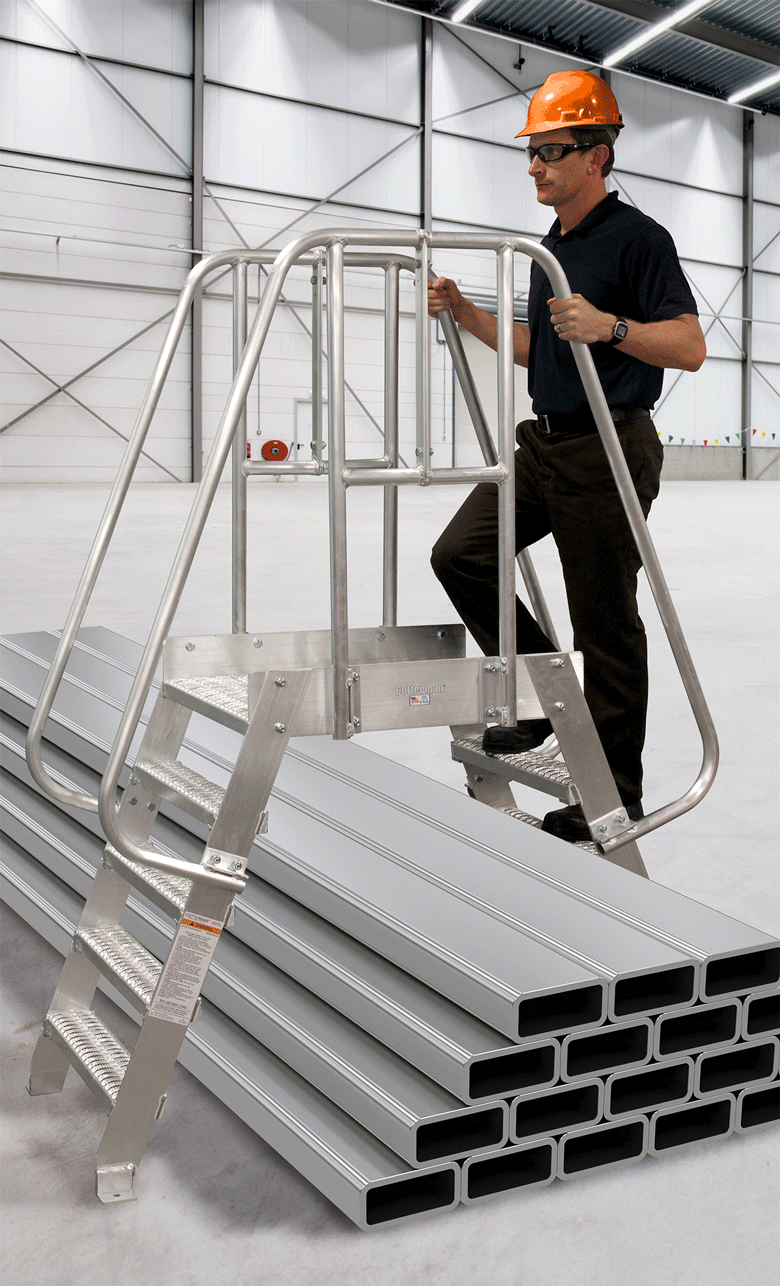 500 lb. load rating.
70° climb angle, with 8″ step rise.
42″ Handrals, constructed of 1-1/2″ diameter round tube.
Stair sections have 24-1/8″ wide by 4-7/8″ deep steps. The top platform includes a 4″ high toe board on each side.
Legs have floor mounting plate with 5/8″ diameter hole.
Serrated or Diamond Plate steps.
Ships unassembled.
Gray powder coat finish is standard on steel models. Aluminum is a brightened, uniform finish.
CAL-OSHA requires customers to request a variance for specific application. NOTE: Before erecting Space-Save Crossover Bridge, check federal, state and local codes.

8 stairway tread support welds per step, for a stronger, longer lasting, and safer ladder.
Gray powder coat is the standard finish (Steel).
Brightened aluminum finish (Aluminum)
Multiple Tread
OPTIONS
Cotterman® offers a variety of tread types to suit your needs. So, no matter what environment your ladder will be in, we have a tread that will offer the optimal grip.


Diamond Plate (A7)
Classic, trustworthy grip. Ideal for dry, indoor environments..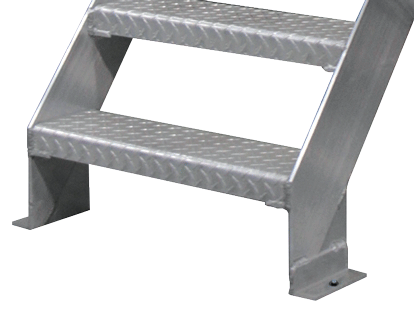 4-7 Step
Floor Mounting Plate
With 5/8″ diameter hole. For bolting the Crossover Bridge to the floor and ensure proper footing.

First Thing's First
First, we need to determine what size Crossover Bridge you need. One of the most common mistakes made in ordering many ladders is getting them too large for the available workspace. Here are some things to consider before ordering your new Crossover Bridge: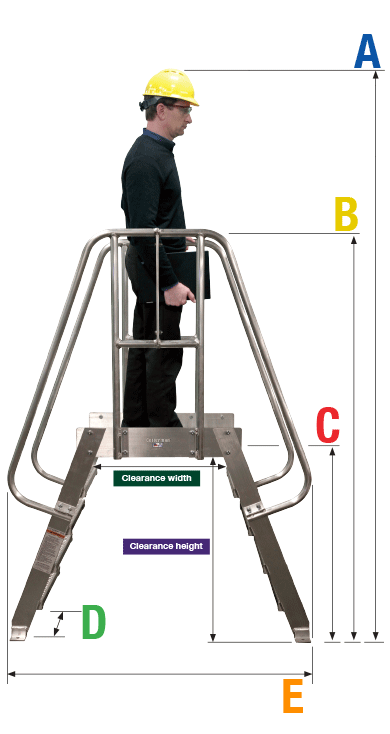 A: Standing Height
The approximate height that a person would stand while on the bridge. You will want to be sure that the user can stand comfortably on the platform without obstruction. We calculate this at 6 feet, but individual standing height will vary.
B: Overall Height
is VERY important. You want to be sure that your ladder will not be too tall to fit into your workspace. This includes being able to fit through any doors that you may need to move it through, or under any ceilings or fixtures that you may have.
C: Platform Height
is the measurement of the top step from the ground. It's important that this measurement is not too far above or below your desired working height.
D: Base Width
is also very important because as ladders get taller, the base width increases. It is important to be sure that the ladder will not be too wide for your workspace. We offer different tread widths to accommodate most work areas.
E: Overall Length
is the measurement between the floor-mounting brackets. This is dependent upon the height of the bridge. The taller the bridge, the longer the overall length. Lower climb angles also increase overall length.
Product Selection Guide
Our NEW Product Selection guide can assist you in choosing the correct ladder for your application. Once you find the ladder that has the correct dimensions for you, just select the red model number, we'll then ask you to select your tread type, tread width and platform depth. After that we'll show you the model number(s) that is the best fit for your use.
SPACESAVER CROSSOVER BRIDGES – STEEL
 

| | | | | | |
| --- | --- | --- | --- | --- | --- |
| Description | Top Step Height | Overall Height | Working Height | Clearance Height | Part Number |
| 4 Step Steel Spacesaver Crossover Bridge | 32 | 74 | 98 | 30 | 4SPS |
| 5 Step Steel Spacesaver Crossover Bridge | 40 | 82 | 106 | 38 | 5SPS |
| 6 Step Steel Spacesaver Crossover Bridge | 48 | 90 | 114 | 46 | 6SPS |
| 7 Step Steel Spacesaver Crossover Bridge | 56 | 98 | 122 | 54 | 7SPS |
SPACESAVER CROSSOVER BRIDGES – ALUMINUM
 

| | | | | | |
| --- | --- | --- | --- | --- | --- |
| Description | Top Step Height | Overall Height | Working Height | Clearance Height | Part Number |
| 4 Step Aluminum Spacesaver Crossover Bridge | 32 | 74 | 98 | 30 | 4SPA |
| 5 Step Aluminum Spacesaver Crossover Bridge | 40 | 82 | 106 | 38 | 5SPA |
| 6 Step Aluminum Spacesaver Crossover Bridge | 48 | 90 | 114 | 46 | 6SPA |
| 7 Step Aluminum Spacesaver Crossover Bridge | 56 | 98 | 122 | 54 | 7SPA |