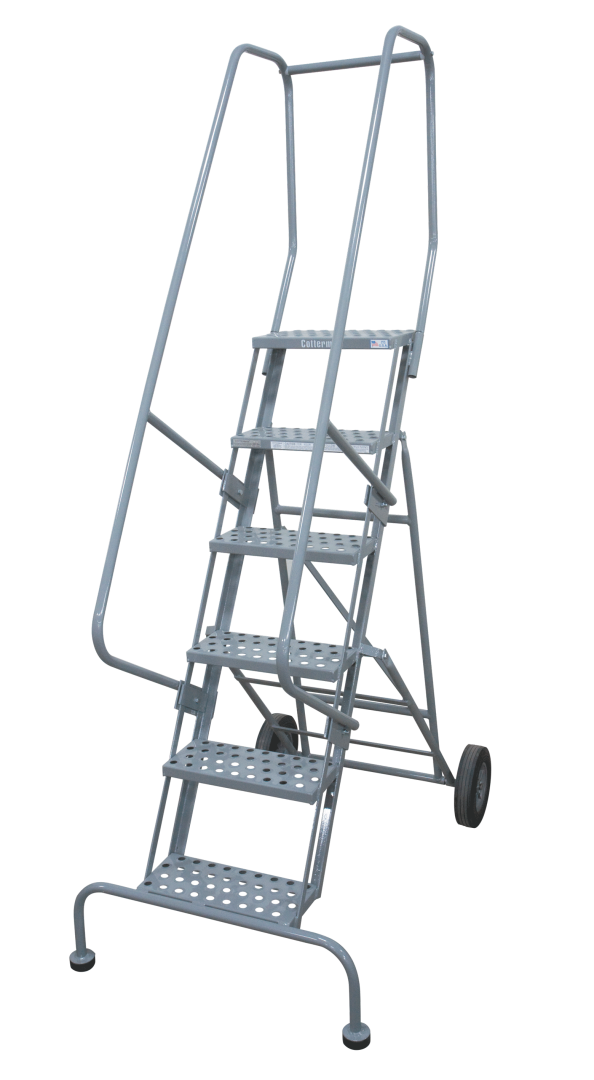 Welded Steel Roll-N-Fold Ladder
The SERIES 6500 Roll-N-Fold Ladder is a portable steel rolling ladder than can be folded for transporting or storage. The rear of the ladder has large 10″ rubber wheels for easy portability, even on rough surfaces. Rubber pads on the front legs hold the ladder secure during use. 5 to 9 step ladders are moved by tilting and rolling it like a wheelbarrow. The SafeLock is standard on 10-16 step models, but also available as an addition option on the 5-9 step models.
450 lb. load rating.
59° climbing angle.
Rigid 1″ O.D. tubular frame is designed to be folded. (folding requires removal of 2 – 4 bolts)
Treads are 7″ deep and 16″ wide. The standard top step is 10″ deep and 16″ wide, deep tops are 20″ deep by 16″ wide.
Large 10″ diameter solid rubber wheels.
Ships partially-assembled.
Series 6500 ladders meet applicable OSHA and ANSI standards.
CAL-OSHA models also available.
All tube members are 1" steel tube construction.
Gray Powder coat is the standard finish.

8 stairway tread support welds per step, for a stronger, longer lasting, and safer ladder.
Multiple Tread
OPTIONS
Cotterman® offers a variety of tread types to suit your needs. So, no matter what environment your ladder will be in, we have a tread that will offer the optimal grip.

  

(A3)

Expanded Metal (A1)
Open step design prevents debris buildup.

Perforated (A6)
Perforated holes provide excellent slip resistance.
Tread
WIDTH
Cotterman® SERIES 6500 comes with 16″ wide treads.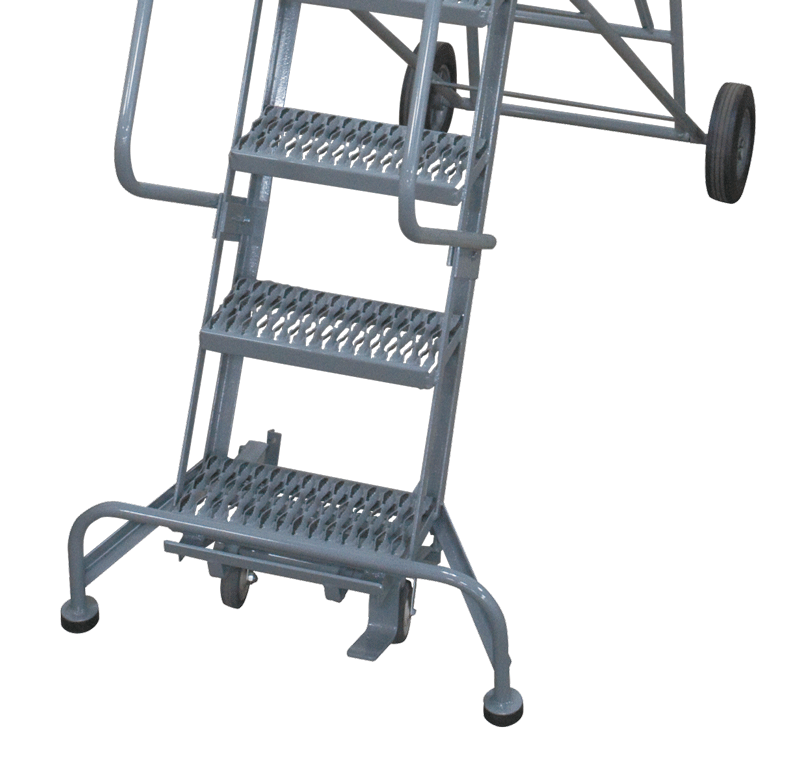 SafeLock™
Foot-activated locking mechanism and large 10″ rigid rear wheels. Optional on 5 – 9 step. Standard on 10 step & above.

First Thing's First
First, we need to determine what size ladder you need. One of the most common mistakes made in ordering many ladders is getting them too large for the available workspace. Here are some things to consider before ordering your new ladder: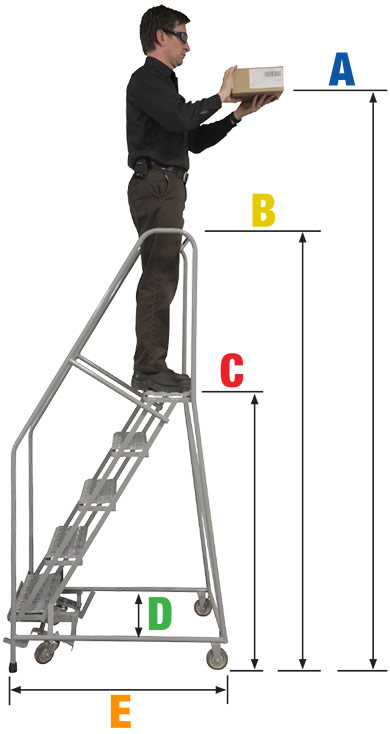 A: Working Height
is the approximate height that you would like to be able to comfortably reach. It is usually calculated at 5.5′ above the ladder's platform height.
B: Overall Height
is VERY important. You want to be sure that your ladder will not be too tall to fit into your workspace. This includes being able to fit through any doors that you may need to move it through, or under any ceilings or fixtures that you may have.
C: Top Step Height
is the measurement of the top step from the ground. It's important that this measurement is not too far above or below your desired working height.
D: Base Width
is also very important because as ladders get taller, the base width increases. It is important to be sure that the ladder will not be too wide for your workspace. We offer different tread widths to accommodate most work areas.
E: Base Length
is the measurement of how long the base of the ladder runs. This is dependent upon the height of the ladder. The taller the ladder, the longer the base. Also lower climb angles increase base length.
*Options such as deeper top steps are available, and will increase the base length. Top steps are available in 10″ – 12″(standard), 20″ – 24″, and 30″.
Product Selection Guide
Our NEW Product Selection guide can assist you in choosing the correct ladder for your application. Once you find the ladder that has the correct dimensions for you, just select the red model number, we'll then ask you to select your tread type, tread width and platform depth. After that we'll show you the model number(s) that is the best fit for your use.
 

| | | | | |
| --- | --- | --- | --- | --- |
| Description | Top Step Height | Overall Height | Working Height | Short Part Number |
| 5 Step Steel Roll and Fold Rolling Metal Ladder | 50 | 80 | 116 | 6505R |
| 6 Step Steel Roll and Fold Rolling Metal Ladder | 60 | 90 | 126 | 6506R |
| 7 Step Steel Roll and Fold Rolling Metal Ladder | 70 | 100 | 136 | 6507R |
| 8 Step Steel Roll and Fold Rolling Metal Ladder | 80 | 110 | 146 | 6508R |
| 9 Step Steel Roll and Fold Rolling Metal Ladder | 90 | 120 | 156 | 6509R |
| 10 Step Steel Roll and Fold Rolling Metal Ladder | 100 | 130 | 166 | 6510R |
| 11 Step Steel Roll and Fold Rolling Metal Ladder | 110 | 140 | 176 | 6511R |
| 12 Step Steel Roll and Fold Rolling Metal Ladder | 120 | 162 | 186 | 6512R |
| 13 Step Steel Roll and Fold Rolling Metal Ladder | 130 | 172 | 196 | 6513R |
| 14 Step Steel Roll and Fold Rolling Metal Ladder | 140 | 182 | 206 | 6514R |
| 15 Step Steel Roll and Fold Rolling Metal Ladder | 150 | 192 | 216 | 6515R |
| 16 Step Steel Roll and Fold Rolling Metal Ladder | 160 | 202 | 226 | 6516R |