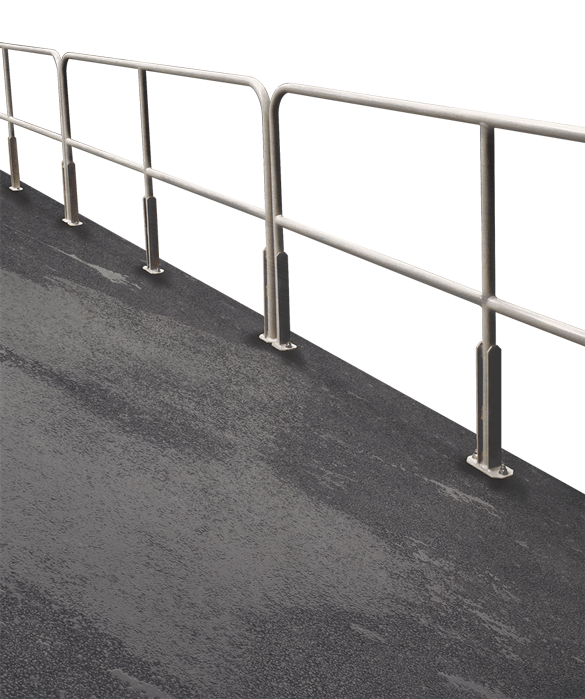 Aluminum one-piece welded construction.
1-1/2″ diameter tube.
42″ high with mid-rail.
Corrosion resistant.
Non-magnetic.
Brightened uniform finish.
Mounting feet have 9/16″ diameter holes for bolt-on field installation.
Mounting hardware not included.
Available in choices of 7 lengths, 2′ through 8′.
Choose a combination of models for distances greater than 8′.
Aluminum Railings meet applicable OSHA standards.


| | | |
| --- | --- | --- |
| Description | Railing Length | Part Number |
| 2′ Bolt on Aluminum Railing | 2′ | AR2 |
| 2′ Bolt on Aluminum Railing with Toeboards | 2′ | AR2T |
| 3′ Bolt on Aluminum Railing | 3′ | AR3 |
| 3′ Bolt on Aluminum Railing with Toeboards | 3′ | AR3T |
| 4′ Bolt on Aluminum Railing | 4′ | AR4 |
| 4′ Bolt on Aluminum Railing with Toeboards | 4′ | AR4T |
| 5′ Bolt on Aluminum Railing | 5′ | AR5 |
| 5′ Bolt on Aluminum Railing with Toeboards | 5′ | AR5T |
| 6′ Bolt on Aluminum Railing | 6′ | AR6 |
| 6′ Bolt on Aluminum Railing with Toeboards | 6′ | AR6T |
| 7′ Bolt on Aluminum Railing | 7′ | AR7 |
| 7′ Bolt on Aluminum Railing with Toeboards | 7′ | AR7T |
| 8′ Bolt on Aluminum Railing | 8′ | AR8 |
| 8′ Bolt on Aluminum Railing with Toeboards | 8′ | AR8T |