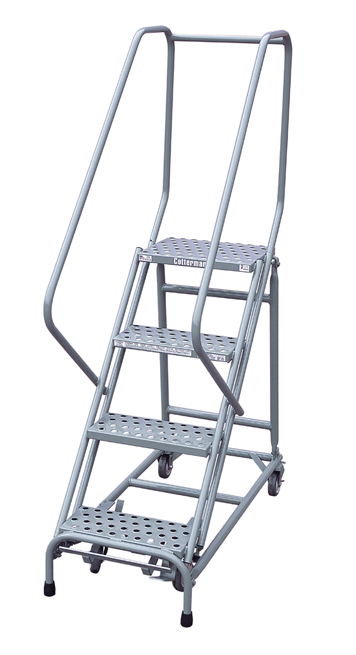 800 lb. load rating.
50° climb angle.
Larger 1-1/4″ diameter tube base and back construction.
7″ deep steps, 12″ or 24″ deep top step.
Ladders are equipped with the Cotterman® SafeLock caster system.
Gray powder coat is the standard finish.
Series 2100 ladders meet OSHA and ANSI standards.
CAL-OSHA models also available.
All tube members are 1-1/4" steel tube construction.
All welded construction.
Gray Powder coat is the standard finish.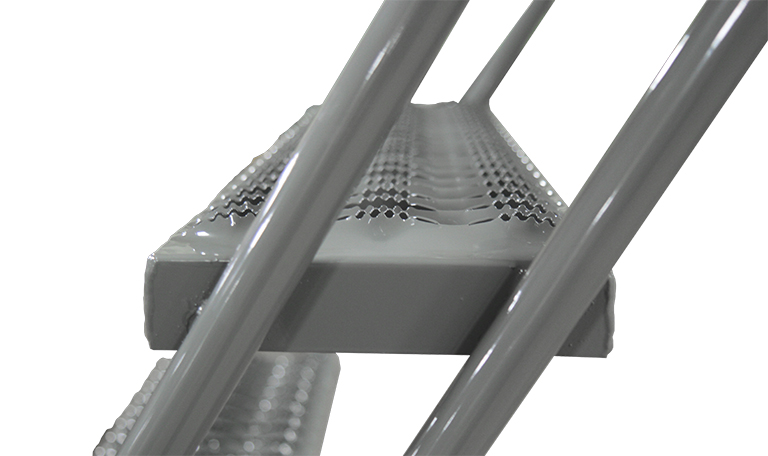 8 stairway tread support welds per step, for a stronger, longer lasting, and safer ladder.
Multiple Tread
OPTIONS
Cotterman® offers a variety of tread types to suit your needs. So, no matter what environment your ladder will be in, we have a tread that will offer the optimal grip.


Expanded Metal (A1)
Open step design prevents debris buildup.

Perforated (A6)
Perforated holes provide excellent slip resistance.

Vinyl (A2)
Solid metal step with nonslip ribbed vinyl tread.
Currently unavailable in Product Selection Guide. Please contact Customer Service for more information.
Tread
WIDTH
Cotterman® offers various tread widths to accommodate almost any situation. So, it is up to you, the user, to determine how and where the ladder will be most commonly used. Our treads vary in widths from 16″ to 30″ to allow for space, storage and usage constraints or requirements.

16″ Tread Width
Open step Premium Serrated Tread.

24″ Tread Width
Open step design prevents debris buildup.

30″ Tread Width
Perforated holes provide excellent slip resistance.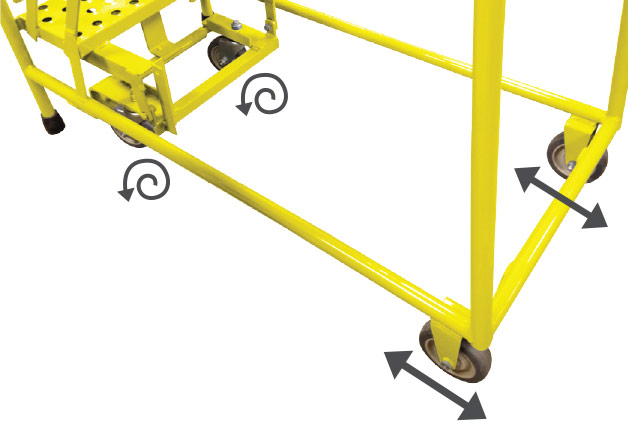 3-Step & Up (B4)
SafeLock™
with 4" wheels. Foot-activated locking mechanism with swivel casters and rigid rear wheels. Available on 4-step & above.
First Thing's First
First, we need to determine what size ladder you need. One of the most common mistakes made in ordering many ladders is getting them too large for the available workspace. Here are some things to consider before ordering your new ladder: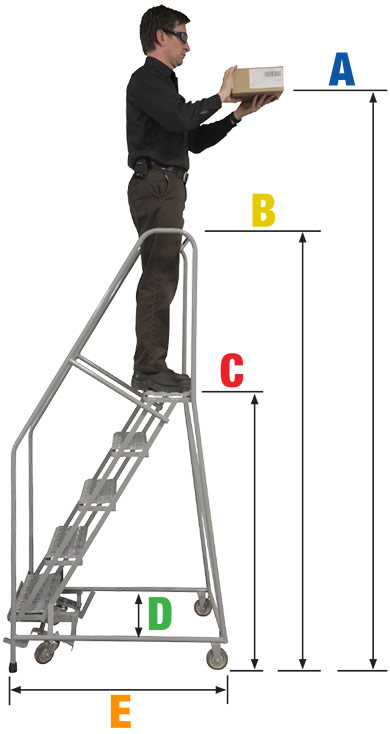 A: Working Height
is the approximate height that you would like to be able to comfortably reach. It is usually calculated at 5.5′ above the ladder's platform height.
B: Overall Height
is VERY important. You want to be sure that your ladder will not be too tall to fit into your workspace. This includes being able to fit through any doors that you may need to move it through, or under any ceilings or fixtures that you may have.
C: Top Step Height
is the measurement of the top step from the ground. It's important that this measurement is not too far above or below your desired working height.
D: Base Width
is also very important because as ladders get taller, the base width increases. It is important to be sure that the ladder will not be too wide for your workspace. We offer different tread widths to accommodate most work areas.
E: Base Length
is the measurement of how long the base of the ladder runs. This is dependent upon the height of the ladder. The taller the ladder, the longer the base. Also lower climb angles increase base length.
*Options such as deeper top steps are available, and will increase the base length. Top steps are available in 10″ – 12″(standard), 20″ – 24″, and 30″.
 

| | | | | |
| --- | --- | --- | --- | --- |
| Description | Top Step Height | Overall Height | Working Height | Short Part Number |
| 3 Step Steel Ready To Climb Heavy Duty 50 Degree Rolling Metal Ladder | 30 | 60 | 96 | 2103R |
| 4 Step Steel Ready To Climb Heavy Duty 50 Degree Rolling Metal Ladder | 40 | 70 | 106 | 2104R |
| 5 Step Steel Ready To Climb Heavy Duty 50 Degree Rolling Metal Ladder | 50 | 80 | 116 | 2105R |