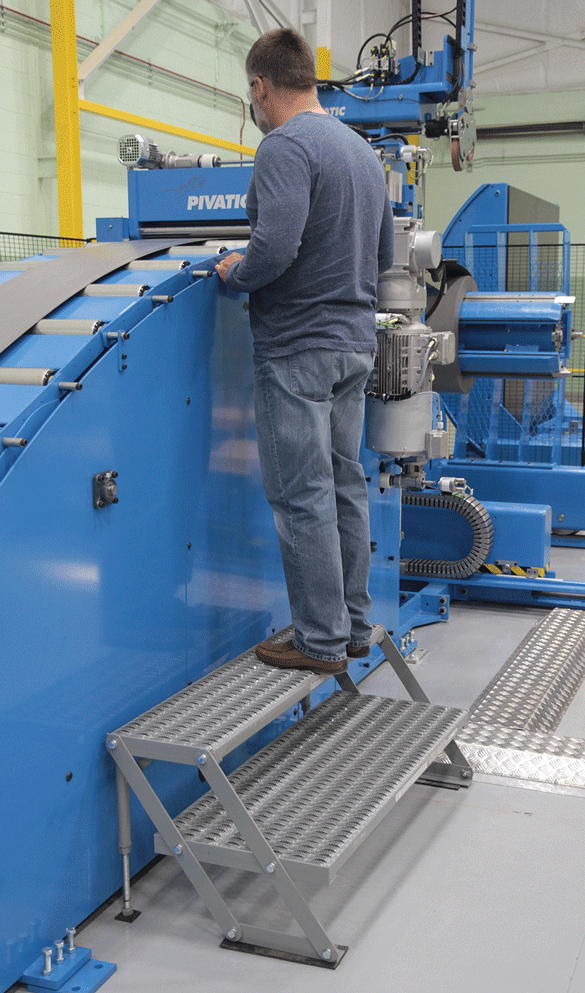 All tube members are 1" steel tube construction.
All welded construction.
Gray Powder coat is the standard finish.
8 stairway tread support welds per step, for a stronger, longer lasting, and safer ladder.
Multiple Tread
OPTIONS
Cotterman® offers a variety of tread types to suit your needs. So, no matter what environment your ladder will be in, we have a tread that will offer the optimal grip.


Solid Tread with ErgoMat (A8)
Solid metal step with nonslip ErgoMat tread.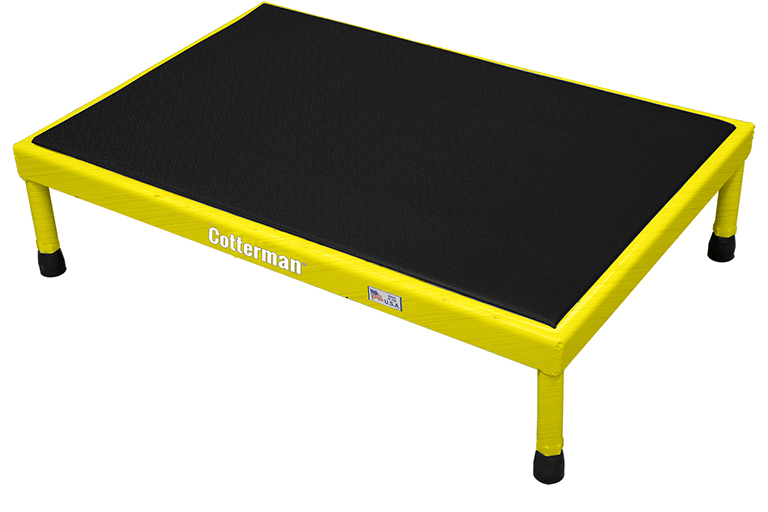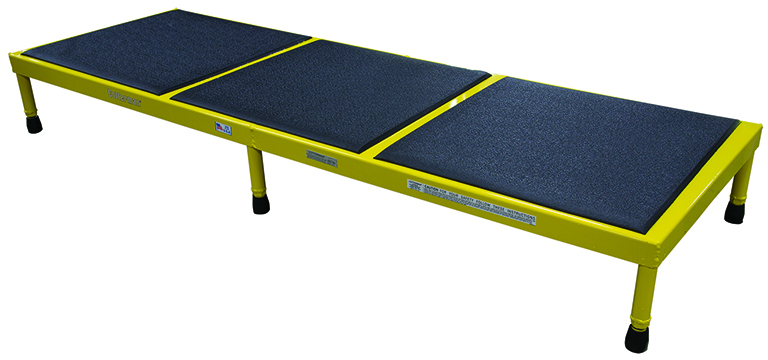 1 STEP STEEL ADJUSTABLE WORK PLATFORM
| | | | | |
| --- | --- | --- | --- | --- |
| Description | Platform Size | Overall Height | Working Height | Part Number |
| 1 Step Steel Adjustable Work Platform with UNAGRIP® Serrated Tread on 2-1/2″ Rubber Pads | 19 x 24 | 10 to 15 | 76 to 81 | 1AWP1924A3 A10-15 B8 C1 P6 |
| 1 Step Steel Adjustable Work Platform with UNAGRIP® Serrated Tread | 19 x 24 | 5 to 8 | 71 to 74 | 1AWP1924A3 A5-8 C1 P6 |
| 1 Step Steel Adjustable Work Platform with UNAGRIP® Serrated Tread on 2-1/2″ Rubber Pads | 19 x 24 | 6 to 9 | 72 to 75 | 1AWP1924A3 A6-9 B8 C1 P6 |
| 1 Step Steel Adjustable Work Platform with UNAGRIP® Serrated Tread | 19 x 24 | 9 to 14 | 75 to 80 | 1AWP1924A3 A9-14 C1 P6 |
| 1 Step Steel Adjustable Work Platform with UNAGRIP® Serrated Tread on 2-1/2″ Rubber Pads | 19 x 36 | 10 to 15 | 76 to 81 | 1AWP1936A3 A10-15 B8 C1 P6 |
| 1 Step Steel Adjustable Work Platform with UNAGRIP® Serrated Tread | 19 x 36 | 5 to 8 | 71 to 74 | 1AWP1936A3 A5-8 C1 P6 |
| 1 Step Steel Adjustable Work Platform with UNAGRIP® Serrated Tread on 2-1/2″ Rubber Pads | 19 x 36 | 6 to 9 | 72 to 75 | 1AWP1936A3 A6-9 B8 C1 P6 |
| 1 Step Steel Adjustable Work Platform with UNAGRIP® Serrated Tread | 19 x 36 | 9 to 14 | 75 to 80 | 1AWP1936A3 A9-14 C1 P6 |
| 1 Step Steel Adjustable Work Platform with UNAGRIP® Serrated Tread on 2-1/2″ Rubber Pads | 19 x 48 | 10 to 15 | 76 to 81 | 1AWP1948A3 A10-15 B8 C1 P6 |
| 1 Step Steel Adjustable Work Platform with UNAGRIP® Serrated Tread | 19 x 48 | 5 to 8 | 71 to 74 | 1AWP1948A3 A5-8 C1 P6 |
| 1 Step Steel Adjustable Work Platform with UNAGRIP® Serrated Tread on 2-1/2″ Rubber Pads | 19 x 48 | 6 to 9 | 72 to 75 | 1AWP1948A3 A6-9 B8 C1 P6 |
| 1 Step Steel Adjustable Work Platform with UNAGRIP® Serrated Tread | 19 x 48 | 9 to 14 | 75 to 80 | 1AWP1948A3 A9-14 C1 P6 |
| 1 Step Steel Adjustable Work Platform with UNAGRIP® Serrated Tread on 2-1/2″ Rubber Pads | 19 x 60 | 10 to 15 | 76 to 81 | 1AWP1960A3 A10-15 B8 C1 P6 |
| 1 Step Steel Adjustable Work Platform with UNAGRIP® Serrated Tread | 19 x 60 | 5 to 8 | 71 to 74 | 1AWP1960A3 A5-8 C1 P6 |
| 1 Step Steel Adjustable Work Platform with UNAGRIP® Serrated Tread on 2-1/2″ Rubber Pads | 19 x 60 | 6 to 9 | 72 to 75 | 1AWP1960A3 A6-9 B8 C1 P6 |
| 1 Step Steel Adjustable Work Platform with UNAGRIP® Serrated Tread | 19 x 60 | 9 to 14 | 75 to 80 | 1AWP1960A3 A9-14 C1 P6 |
| 1 Step Steel Adjustable Work Platform with UNAGRIP® Serrated Tread on 2-1/2″ Rubber Pads | 19 x 72 | 10 to 15 | 76 to 81 | 1AWP1972A3 A10-15 B8 C1 P6 |
| 1 Step Steel Adjustable Work Platform with UNAGRIP® Serrated Tread | 19 x 72 | 5 to 8 | 71 to 74 | 1AWP1972A3 A5-8 C1 P6 |
| 1 Step Steel Adjustable Work Platform with UNAGRIP® Serrated Tread on 2-1/2″ Rubber Pads | 19 x 72 | 6 to 9 | 72 to 75 | 1AWP1972A3 A6-9 B8 C1 P6 |
| 1 Step Steel Adjustable Work Platform with UNAGRIP® Serrated Tread | 19 x 72 | 9 to 14 | 75 to 80 | 1AWP1972A3 A9-14 C1 P6 |
| 1 Step Steel Adjustable Work Platform with UNAGRIP® Serrated Tread on 2-1/2″ Rubber Pads | 19 x 96 | 10 to 15 | 76 to 81 | 1AWP1996A3 A10-15 B8 C1 P6 |
| 1 Step Steel Adjustable Work Platform with UNAGRIP® Serrated Tread | 19 x 96 | 5 to 8 | 71 to 74 | 1AWP1996A3 A5-8 C1 P6 |
| 1 Step Steel Adjustable Work Platform with UNAGRIP® Serrated Tread on 2-1/2″ Rubber Pads | 19 x 96 | 6 to 9 | 72 to 75 | 1AWP1996A3 A6-9 B8 C1 P6 |
| 1 Step Steel Adjustable Work Platform with UNAGRIP® Serrated Tread | 19 x 96 | 9 to 14 | 75 to 80 | 1AWP1996A3 A9-14 C1 P6 |
| 1 Step Steel Adjustable Work Platform with UNAGRIP® Serrated Tread on 2-1/2″ Rubber Pads | 24 x 24 | 10 to 15 | 76 to 81 | 1AWP2424A3 A10-15 B8 C1 P6 |
| 1 Step Steel Adjustable Work Platform with UNAGRIP® Serrated Tread | 24 x 24 | 5 to 8 | 71 to 74 | 1AWP2424A3 A5-8 C1 P6 |
| 1 Step Steel Adjustable Work Platform with UNAGRIP® Serrated Tread on 2-1/2″ Rubber Pads | 24 x 24 | 6 to 9 | 72 to 75 | 1AWP2424A3 A6-9 B8 C1 P6 |
| 1 Step Steel Adjustable Work Platform with UNAGRIP® Serrated Tread | 24 x 24 | 9 to 14 | 75 to 80 | 1AWP2424A3 A9-14 C1 P6 |
| 1 Step Steel Adjustable Work Platform with UNAGRIP® Serrated Tread on 2-1/2″ Rubber Pads | 24 x 36 | 10 to 15 | 75 to 80 | 1AWP2436A3 A10-15 B8 C1 P6 |
| 1 Step Steel Adjustable Work Platform with UNAGRIP® Serrated Tread | 24 x 36 | 9 to 14 | 76 to 81 | 1AWP2436A3 A5-8 C1 P6 |
| 1 Step Steel Adjustable Work Platform with UNAGRIP® Serrated Tread on 2-1/2″ Rubber Pads | 24 x 36 | 6 to 9 | 72 to 75 | 1AWP2436A3 A6-9 B8 C1 P6 |
| 1 Step Steel Adjustable Work Platform with UNAGRIP® Serrated Tread | 24 x 36 | 9 to 14 | 75 to 80 | 1AWP2436A3 A9-14 C1 P6 |
| 1 Step Steel Adjustable Work Platform with UNAGRIP® Serrated Tread on 2-1/2″ Rubber Pads | 24 x 48 | 10 to 15 | 76 to 81 | 1AWP2448A3 A10-15 B8 C1 P6 |
| 1 Step Steel Adjustable Work Platform with UNAGRIP® Serrated Tread | 24 x 48 | 5 to 8 | 71 to 74 | 1AWP2448A3 A5-8 C1 P6 |
| 1 Step Steel Adjustable Work Platform with UNAGRIP® Serrated Tread on 2-1/2″ Rubber Pads | 24 x 48 | 6 to 9 | 72 to 75 | 1AWP2448A3 A6-9 B8 C1 P6 |
| 1 Step Steel Adjustable Work Platform with UNAGRIP® Serrated Tread | 24 x 48 | 9 to 14 | 75 to 80 | 1AWP2448A3 A9-14 C1 P6 |
| 1 Step Steel Adjustable Work Platform with UNAGRIP® Serrated Tread on 2-1/2″ Rubber Pads | 24 x 60 | 10 to 15 | 76 to 81 | 1AWP2460A3 A10-15 B8 C1 P6 |
| 1 Step Steel Adjustable Work Platform with UNAGRIP® Serrated Tread | 24 x 60 | 5 to 8 | 71 to 74 | 1AWP2460A3 A5-8 C1 P6 |
| 1 Step Steel Adjustable Work Platform with UNAGRIP® Serrated Tread on 2-1/2″ Rubber Pads | 24 x 60 | 6 to 9 | 72 to 75 | 1AWP2460A3 A6-9 B8 C1 P6 |
| 1 Step Steel Adjustable Work Platform with UNAGRIP® Serrated Tread | 24 x 60 | 9 to 14 | 75 to 80 | 1AWP2460A3 A9-14 C1 P6 |
| 1 Step Steel Adjustable Work Platform with UNAGRIP® Serrated Tread on 2-1/2″ Rubber Pads | 24 x 72 | 10 to 15 | 76 to 81 | 1AWP2472A3 A10-15 B8 C1 P6 |
| 1 Step Steel Adjustable Work Platform with UNAGRIP® Serrated Tread | 24 x 72 | 5 to 8 | 71 to 74 | 1AWP2472A3 A5-8 C1 P6 |
| 1 Step Steel Adjustable Work Platform with UNAGRIP® Serrated Tread on 2-1/2″ Rubber Pads | 24 x 72 | 6 to 9 | 72 to 75 | 1AWP2472A3 A6-9 B8 C1 P6 |
| 1 Step Steel Adjustable Work Platform with UNAGRIP® Serrated Tread | 24 x 72 | 9 to 14 | 75 to 80 | 1AWP2472A3 A9-14 C1 P6 |
| 1 Step Steel Adjustable Work Platform with UNAGRIP® Serrated Tread on 2-1/2″ Rubber Pads | 24 x 96 | 10 to 15 | 76 to 81 | 1AWP2496A3 A10-15 B8 C1 P6 |
| 1 Step Steel Adjustable Work Platform with UNAGRIP® Serrated Tread | 24 x 96 | 5 to 8 | 71 to 74 | 1AWP2496A3 A5-8 C1 P6 |
| 1 Step Steel Adjustable Work Platform with UNAGRIP® Serrated Tread on 2-1/2″ Rubber Pads | 24 x 96 | 6 to 9 | 72 to 75 | 1AWP2496A3 A6-9 B8 C1 P6 |
| 1 Step Steel Adjustable Work Platform with UNAGRIP® Serrated Tread | 24 x 96 | 9 to 14 | 75 to 80 | 1AWP2496A3 A9-14 C1 P6 |
1 STEP STAINLESS STEEL ADJUSTABLE WORK PLATFORM
1 STEP ALUMINUM ADJUSTABLE WORK PLATFORM
2 STEP STEEL ADJUSTABLE WORK PLATFORM
 

| | | | | |
| --- | --- | --- | --- | --- |
| Description | Platform Width | Overall Height | Working Height | Part Number |
| 2 Step Steel Adjustable Work Platform with UNAGRIP® Serrated Tread | 24 | 13 to 21 | 79 to 87 | 2AWP2412A3 A13-21 C1 P6 |
| 2 Step Steel Adjustable Work Platform with UNAGRIP® Serrated Tread | 36 | 13 to 21 | 79 to 87 | 2AWP3612A3 A13-21 C1 P6 |
| 2 Step Steel Adjustable Work Platform with UNAGRIP® Serrated Tread | 48 | 13 to 21 | 79 to 87 | 2AWP4812A3 A13-21 C1 P6 |